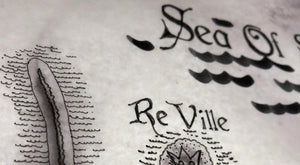 CENSOR ME, I DARE YOU.
When artist Holly Inks put a call out for artists and collaborators to literally censor her, I jumped at the chance.
She creates all sorts of NSFW artwork, and had discovered that Meta was happily taking down her work, due to the appearance of...nipples.
How exactly does this connect with puzzles? Well, I put myself forward, and was lucky enough to be artist #28. I created an Anatomap with the image, turning everything into a geographical feature.
I then labelled everything in a very obviously-furious way, very puritanical in nature. Finally, I embedded seven puzzles on it. The font I used for letter inspiration was called Cardinal, which tied in nicely with cardinal sins, so that's what I called the piece.
Where can we see it?
It is available to view at an exhibition Holly is running on Friday 4th March, at 10 Quaker Street, Shoreditch, London, from 12-8pm.
Where can I buy it?
Ah, there's the rub. Only one was made (who doesn't love a limited edition‽) and it is only available by auction. There are lots of brilliant clever pieces, and the link goes live from 7.30pm on Friday, 25th February.
https://airauctioneer.com/hollyinks
---