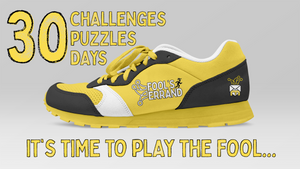 Get Active in body and mind this April!

A month-long active challenge, with a puzzling twist!
Whether you are a seasoned race participant, someone wanting to build up an exercise routine, or an inspiration team leader wanting to motivate and inspire your colleagues, the Fool's Errand Challenge is perfect for you!
You set the goal...
...we set the challenges.
When you sign up, you commit to exercising every day in April 2022. This could be steps, kilometres run, miles cycled - whatever you want.
What you don't get to set is the daily challenge.
These are sent out via email the day before - to give you a little preparation time - in the form of a small word/logic puzzle. Full hints will be available online from this website, and none restrict your challenge, but add an element of variety to the day's events.
Can you complete the challenge:
Saying hello to every stranger on your route
In a woolly hat
With the brightest possible socks
...and NOT have a smile on your face?! 
For the race pro
We are hosting daily tables of common race distances, using user submitted entries. There will be prizes fro the best in each category, as well as most improvements over the month.
For the beginner
This is your chance ot shine! Celebrate each day's achievements online using the #FoolsErrand hashtag, where we will award spot prizes for participation and... general JOY! 
For the Teams
As well as offering discounts for Healthcare and Emergency Service and Education teams, we are preparing league prizes too, to enable teams to celebrate in style!
Is this for Charity?
The fees go toward paying for a medal and the administration of the challenge, as well as the daily puzzles and support. You are more than welcome to make this a sponsored event, and can recommend these sites to support you! 
Challenge costs
Individual - £25 per entry
(£20 before 31st January 2022)
Teams - No Registration fee before 31st January 2022
Team of two £40
Team of four £80
Team of five £95
Team of six £110
For corporate/larger teams, please get in contact.
Healthcare/Education/Emergency Service teams £100 for a team of six.
(Proof of profession required from at least two of the members).
Starting Line Packs
These include:
Full instructions and details for preparing for the challenge.
Some sample puzzles and example challenges.
Your very own Virtual Race Number
Prizes
Upon completion, we will send you your very own Fool's Errand Medal! This a limited edition 45mm high quality enamel pin, with rubber clutch and hidden puzzles built in! For old-school traditionalists, we will add in some ribbon upon request!
I just want the daily puzzles
No problem - you can sign up for this and we will automatically send you the daily challenges.
---