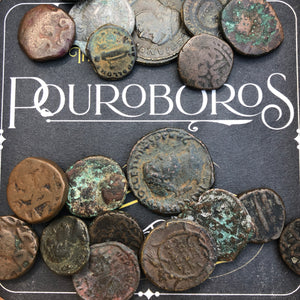 POUROBOROS HOARD: ENIGMAILED LAUNCHES LIVE TREASURE HUNT IN LONDON, PLAYABLE ACROSS THE WORLD
A live treasure hunt has been launched today in Central London, but playable around the globe.
The Pouroboros Hoard is a collection of genuine Roman coins, stowed in a unique wooden chest. Players have to identify the hiding point of the hoard (which has been signposted) which is in a publicly located space within three miles of Trafalgar Square.
To enter the challenge, which is free to play, treasure hunters have to seek out nine clues hidden at nine locations, then combine them to create a set of three what3words locations, triangulating on the key location. The clues are hidden in various online sources.
The nine locations are identified playing the Pouroboros game, released this month by Enigmailed Puzzles, an innovative UK-based games publisher. 
The first person to correctly identify the location, once verified, will win the Pouroboros Hoard.
This hunt is to celebrate the countdown launch of Enigmailed's next Kickstarter, Notable Remains, a layered map challenge, which can be found at:
https://www.kickstarter.com/projects/1666104729/notable-remains
To enter,  simply download the free download Pouroboros Hoard file from the Enigmailed website, and follow the instructions online. The link for this is:
https://enigmailed.com/products/pouroboros-hoard
---