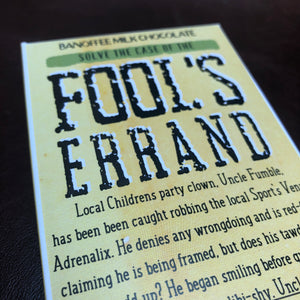 April 2022 Newsletter
This Month's Bar - Fool's Errand
Well, why wouldn't we brand this month's bar with our favourite puzzle-and-physical-exercise-challenge game, Fool's Errand‽ This bar is a delicious Banoffee Milk, crammed with the usual array of puzzles and small-town crime!
Subscribers will have already feasted on it, and this flavour has proven to be very popular, so do get it while it's in a room-temperature condition!
What we are playing (from other people)
This month's game is from USB Escape, our Canadian friend, Keith! This is a computer-based puzzle game, and there is a LOT of content for the price, we can tell you. There has been some fantastic personalisation, and Keith also serves Windows or Mac users, so you really have no excuse!
Buy USB Escape here: https://www.usbescape.com/
Puzzlebash you say?
We experimented with a group of puzzlers meeting together and playing a big game in February, and it was enormous fun!
We are now organising another, and you are invited! Please do get in contact through Enigmailed if you would like to be involved - we are looking at June/July time, in SE England. American subscribers, we would love to have you join us, and will help in any way!
Feeling the Fool?
There are only ten days left of Fool's Errand, but you are welcome to join us for the final ten days - every subscriber to the game will get all 30 games in one handy download at the end! Feel free to play the remainder of Fool's Errand with us!
Until next time,
Step (& Saffie)
---