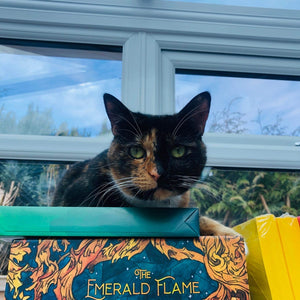 March 2022 Newsletter
Welcome to our newsletter!
We finally have put all our news into one handy location! We hope you find it useful - please do feedback to us your thoughts (anything you don't like is probably the cat's fault, just saying).
This Month's Bar - Simply The Zest
Subscribers will have already taken a slice of this delicious bar from our suppliers in Kernow, and you are in for a treat if you haven't sampled it yet.
A strong crunch and lemony taste combine with this white chocolate - we promise you won't be disappointed. The mystery on the wrapper is a corker too, with the typical mischief in our quiet village, except this is our first MURDER!
Some new puzzles are on the wrapper, as well an homage to a now-familiar Wordle-like puzzle. Be sure to take a photo of your result and add it to Facebook BECAUSE NONE OF US ARE BORED OF THAT ALREADY.
What we are playing (from other people)
The delivery of this game was unexpected and exciting! We are currently halfway through the Postcurious game, The Emerald Flame. It has taken quite a while to arrive, as is the way often with Kickstarter projects in a pandemic, but boy is it worth it! A superb game, with some really clever puzzles, and it is also quite, quite beautiful.
What you should be playing (from us)
We are days away from Fool's Errand, our month-long puzzle-and-exercise challenge. We are still open for individuals and teams to join us, and in case you needed a reminder, you will get access to a daily puzzle during April, the answer to which will be an additional challenge for your exercise (wear green socks for example). You can take part as much or as little as you like, but do hurry, as the chance to earn your exclusive Fool's Errand Pin Badge (yes a PIN BADGE) runs out 1st April!
Blogged down...
We had a LOT of fun with Pouroboros Hoard, the live treasure hunt. It was, despite trying my hardest, found in just over two days, and you can read all about the momentous event.
...and Coming up
We have a new six-part subscription game launching in the autumn, and we promise, you won't have seen anything like this before!
Our kickstarter for Notable Remains launches soon too. This is BIG - you will need a lot of space to play, which is a departure from our normal Font Size 6 puzzling adventures!
Back the prelaunch right here: Boom- and the campaign is followed.
Insight: Why launch on Kickstarter?
We have had several product launches this year, and only used Kickstarter for one. Why is that? We believe in using our size to be agile, so we try not to use Kickstarter for a game launch which we can normally manage when it is funded by ourselves.
However, for some games, where minimum quanitites are needed to produce the game, Kickstarter helps us to achive and finance these minimum order quantities. As an example, the samples for Pouroboros alone were over £100, and the minimum spend for ordering the cardboard coasters was £900! This is why we designed the amount of £1000 as our goal figure. In reality, Pouroboros ran at a loss until near the very end.
Puzzles in the wild
If you have missed it, #enigmarch is a month-long daily puzzle challenge to play or create in. Simply look for the hashtag on Twitter, Facebook or Instagram - yes, all the socials!
Kickstarter news
For backers of Pouroboros, you will have found your coasters in your mail this month, on time as per the schedule - YES YOU READ THAT RIGHT! For those who don't know, Pouroboros is a nine-puzzle game based in London which conveniently tours some fantastic pubs.
It is of course eminently playable at home, which the vast majority of backers are doing right now (conceptually, at least), and it utilises What3words, a fabulous locating service.
We are also busy preparing Notable Remains, a multi-layered puzzle map adventure, and folks, this game is BIG both in size and ambition. You won't want to miss out on this, so please do register on our pre-launch page via this link.  We are hoping to launch at the End of May, for a Christmas 2022 delivery.
Upcoming products
We have a very special sale this coming April - but for one day only. We are launching two products that day, and here is where the launch becomes mysterious...
Both products will be strictly limited to ensure the quality is as high as expected and that the quantity is manageable. You will know NOTHING about either puzzle, which will be at two price points, and they will not be sold again at this price. I'm sure this will have piqued your interest, so please head over to the page to find out more...
Until next time,
Step (& Saffie)
---